A compass is a popular tool among travelers, especially sea farers and military personnel, as it gives them a sense of direction. Besides its utilitarian value, a compass also looks cool and classy. So, it is no wonder that many people want to tattoo a compass on themselves. Whether it is for utility or looks, compass tattoos are popular among people all over the world. Below are some compass designs for you.
# 50: Compass Tattoo on Upper Shoulder
#49: Compass Tattoo on the Forearm
#48:  Compass Tattoo on Chest
This tattoo has a north star in the center to give added stability and safety for the person wearing it. Due to this belief, it is widely used by travellers and military men.
#47: Compass Tattoo on Upper Side of a Foot
#46: Compass Tattoo on Biceps
#45: Simple Compass Tattoo on the Wrist
#44: An Aesthetically Appealing  Compass Tattoo
#43: Compass Tattoo on the Back Side of Your Palm
#42: Tattoo on Lower Forearm
Compass tattoos can be used to show your life's priorities such as work, family and religion.
#41: Big Compass Tattoo on the Back
#40: Compass Tattoo to Signify You are Moving Ahead 
A compass can sometimes be used to signify that you are moving forward from a bad situation or tragedy in life.
#39: A Stylish Compass Tattoo
#38: Compass Tattoo With a Sailing Boat in the Middle.
This tattoo is particularly popular with seamen.
#37: Compass Tattoos as a Form of Inspiration
#36: An Artistic Representation of a Compass Tattoo
#35: Compass Tattoo As a Beacon of Life.
This tattoo with a rose in the middle signifies that people should leave behind their thorns (miseries) and take the path of the rose (happiness). In other words, it means people should learn to be happy regardless of their situation.
#34:
Compass Tattoos with Additional Messages
#33: A Dash of Color to a Compass Tattoo
#32: A Compass Tattoo to Depict Dangerous Professions
This design is considered to be masculine as it expresses dangers involved in certain jobs.
#31: A Black Ink Compass Tattoo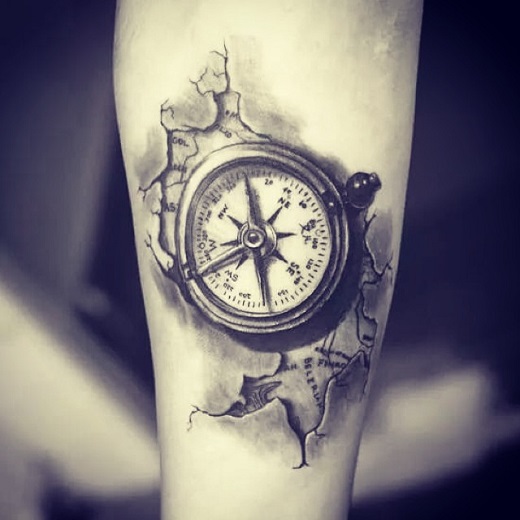 This tattoo's design adds much depth to the overall look of the tattoo.
#30: Dark and imprinted Compass Tattoo
#29: A Compass Tattoo In the Middle of a Rose Branch
#28: A Compass Tattoo With a Strong Message
Love and religion can inspire you in more ways than you imagine. This design can mean to be a sign for your loved home to take you to a loving home or it can be a plea to God to take you to His abode.
#27: Another Powerful Message About Life
#26: Compass Tattoo With a Strong Religious Message
#25: A Breezy Compass Tattoo Design
#24: A Detailed Tattoo of Roses and a Compass
#23: Compass and a Koi Fish
Koi fishes have strong symbolism in both Chinese and Japanese cultures as they show how a person can remain strong in the face of adversities.
$22: Compass Tattoo with the Accompanying Globe
You can have one or more globes along with your compass tattoo if you like traveling or even specific countries that you like the most.
#21: Show Off Your Profession
If you are in a profession where you use your hands a lot, then show off your hand with a compass tattoo on it.
#20: Sleek on the Heel
For a sleek compass tattoo on your heel, try this design.
#19: Compass and Arrows
Compass and arrows always go well together as they are similar in meaning and design. In fact, an arrow complements a compass well.
#18: Multiple compass tattoos joined by a dash of color
#17: A 3D Compass Tattoo
#16: A Compass Tattoo with a world map in the center.
#15: A Ceramic designed Compass Tattoo
#14: Antique Compass Tattoo design to transport you to a different time
#13: Spiral compass tattoo design
#12: World at Your Feet
This design is symbolic to mean a lot of things such as you want to have the world at your feet or you want to travel the entire world – just depends on what you want!
#11: A Compass Caught in the branches of a tree
#10: Combined compass tattoo
Combine compass-related objects such as airplane to create a splendid tattoo for yourself.
#9: Intricate compass tattoo design
#8: Compass and Anchor
A compass and an anchor complement each other well because they are closely related with each other.
#7:
#6: Just a Beautiful compass tattoo
#5: Say a Story with a compass tattoo

Weave a story around a compass tattoo.
#4: A stylish compass tattoo
#3: An Embellished Compass Tattoo
#2: A Simple and Flowery Compass Tattoo
#1: Intricate Compass Tattoo
Embed a compass tattoo amongst your favorite things to create an innovative pattern or to tell a story.
Do these compass tattoos inspire you? Unleash your creativity to customize the above design ideas to make them your own.
Also, give us your thoughts and ideas.